Nepali Speakers: Demographics, Dialects and Migration
Nepal is huge when it comes to the variety of castes, cultures and speakers of the different languages present here .  According to the 2011 census data, it is reported that there are 123 mother tongues spoken in the small landlocked country. Nepali   stands out as the most spoken in language with 44% speaking the language and then   followed by Maithili which is spoken by almost 12% of the total population.
Just because the majority of the population speaks Nepali and Maithili doesn't mean that knowing these two languages for exploring Nepal is enough. The smaller languages varies according to the geographical locations in which the population density of a specific caste is in majority. That is why when you travel around Nepal the languages are not evenly distributed in terms of speaking rather are spoken more, depending upon which caste lives there. For example, Bhojpuri is spoken mostly in Chitwan , Bara , Parsa ,Rautahat Newari in most parts of Kathmandu, Doteli in Doti, Bajhang, Baitadi and Tamang and Gurung languages in the western parts of Nepal like Pokhara and Palpa.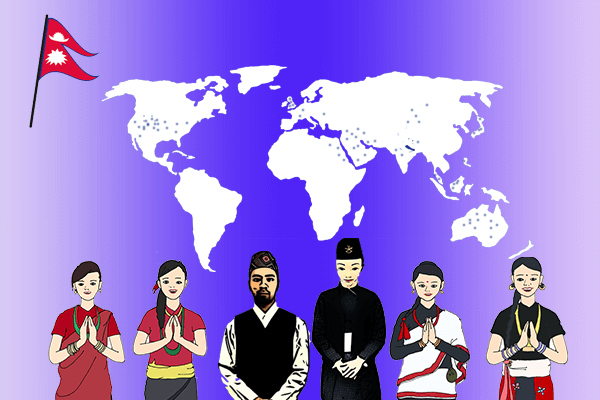 Diversity in dialects
The diversity is not only limited in terms of language but in terms of dialect as well which carries a separate identity of a community .In Nepal it is easier to identify where a person is from by simply identifying the dialect he/she speaks . Like a person from Jhapa would call the traditional kitchen tool as "Nanglo " the same as a person from Makwanpur would call it whereas people from Humla and Surkhet would call it " Supo" not "Nanglo " . While this may be true that, they are speaking about the same object but the language is different. In contrast, even within the same community or caste the dialects differ. For example if a person from Kathmandu was to ask, Ko cha? Then a person from Kaski would ask the same as "Ko Kha?" .
But the trend in terms of language and dialect is changing. While Kathmandu still has certain parts where only Newari is spoken and Nepali is not even understood, the scenario has changed upon the last few decades. The cultural impact has definitely reduced as the new generation of Newars actually don't speak that much Newari but are well accustomed to Nepali language. Migration also has played a major impact in recent times. Nowadays, people from different cultural background have migrated to all sorts of areas thus the dominance of one language or dialect in a certain region is reducing. So now if you explore different regions of Nepal, you might even come across the most unexpected language because people have migrated to different parts for jobs, education, and lifestyle and so on.
The reach of Nepali speakers
In spite of being a small country with low population , Nepali language is not just limited with in the Nepali borders as the native speakers have reached to various parts of the world. In Tasmania, Australia Nepali is the third most common language after English and Chinese. With a heavy number of migrant workers residing in the Gulf, Nepali language is also slowly rising in countries like Dubai, Qatar and Oman. Similarly migration in Japan and Korea also has increased the number of Nepali speakers within these countries.