The Importance of Language Translation in Movies and Series: The Case of Money Heist
Almost every month new TV series and movies are launched in the cable or online streaming platforms. For instance, Netflix, one of the famous streaming service providers globally, constantly recommends a long list of good shows, both American and foreign. It would definitely be a shame if you were not able to enjoy these shows because of the language barrier, now would it?
Thankfully, Netflix has enabled language translations to all of their non-English speaking films and series, either through subtitles or dubbing. By doing this, their viewers were able to expand their options and discovered more brilliant works from different directors and actors all over the world. One of the TV series that benefited from this initiative is one of today's most in demand Spanish crime drama— Money Heist.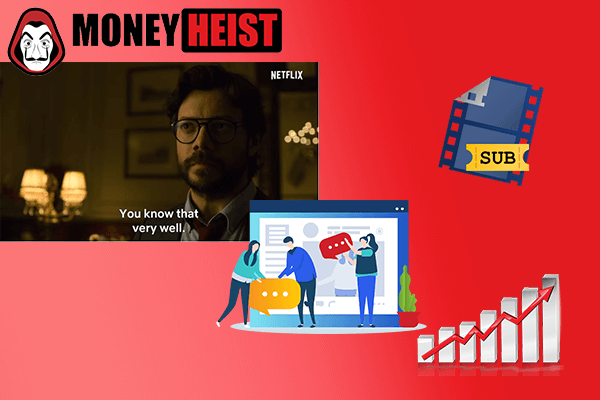 Just like how Professor named each member of his squad after different cities of the world, Money Heist has surprisingly gained its popularity worldwide after nearly being cancelled due to poor viewership. Since it has been picked up by Netflix and was translated to various languages, Money Heist's viewership has increased from 2 million to whooping 34 million in just a week. Eventually, more and more people from all over the world have been hooked with the story of 8 Spanish criminals and one brilliant mastermind.
More than the entertainment that it brings, language translation on TV series or movies has deeper and more relevant purposes that it serves. If you haven't watched Money Heist just yet, a friendly reminder that the following details may contain some spoilers.
1. Broadens audience reach
Before it was translated to Money Heist, La Casa de Papel only had the entire community of Spain to amuse. Using their native language and culture, the characters of the series were able to introduce themselves to the viewers of Spain as the coolest gang of robbers ever existed. When Netflix picked up the series, the show was then introduced globally as Money Heist and along with this launch is the availability of language translation. From Spanish, Money Heist was translated to English through subtitles and dubbing.
Due to this change, the viewers of Money Heist significantly increased. Now that more people can conveniently understand and enjoy the series without having to learn the Spanish language, it was only a few days until Money Heist was listed as one of the most watched tv series worldwide.
2. Promotes language learning
After binging on the 4 seasons of Money Heist, you have probably learned a few Spanish words like vamos, gracias, hola, cómo estás, and more other words that are quite wicked. Watching a foreign television show with translations is proven to be an effective tool for learning a new language. By incorporating translations to foreign TV series and movies, showrunners are not only providing an avenue for entertainment, but for learning as well.
Since it's a television show, you will be learning the language in a conversational manner which is quite actually a win.
3. Enhances reading speed and comprehension
Catching up on the subtitles while trying to keep your focus on the show itself can be quite a work but it actually is a good practice if you want to enhance your reading speed and literacy. Unlike the language teaching applications where you have the option to slow down the speed of the audio, watching a show with subtitles plays at a normal rate that allows you to practice reading at a faster pace.
Additionally, by using translations in text, viewers will be able to improve their vocabulary and recognize correct spellings and grammar.
4. Strengthens emotional connection to foreign viewers
The moment Money Heist was translated into the English Language, it allowed the people outside of Spain to appreciate the story and connect with each of the characters emotionally. Had it not been translated, the viewers would not be able to understand deeply enough why Professor initiated the Heist in the first place; why each member of his squad decided to join him despite having personal differences; or why Inspector Raquel Murillo later on left the force to be with The Professor.
They say action speaks louder than words but in movies or series, the dialogue or script is one of the important elements to be able to connect with the viewers. But, this wouldn't be possible if the viewers themselves do not understand the language used.
Language translation in movies and television shows serves as a tool that allows local culture and arts to be introduced internationally. Without having to fly all the way to Spain, the foreign viewers of Money Heist are able to witness the way of the life of the locals, how they deal with troubles and difficulties, and how they react to every situation thrown at them.
Depending on the country adapting the show, the method of translating into their native language may vary. For instance, in some European countries like Spain, France, Italy, and Germany, they prefer dubbing to be their method of language translation. On the other hand, residents of Portugal, Greece, Denmark, Sweden, and Norway would rather use subtitles when watching foreign films.
Whichever method your country prefers to use when translating a foreign language into your native one, what matters is that it's accurately done. Using colloquial terms and native expressions can help bring more familiarity and relevance to the audience; however this has to be carefully executed as it may bring up misconceptions against the original idea.